A fully licensed and insured registered estate agency, Compass Immobilier is a French limited liability company founded in 2005 by its director Victoria Maître Headdon. Compass Immobilier is based in the beautiful rolling hills of the Gers and the Hautes Pyrenees, part of the Occitanie (formerly Midi-Pyrenees) region of France. A rural and peaceful corner of south west France, the Gers and the Hautes Pyrenees are situated diagonally between the cities of Toulouse and Bordeaux. They enjoy easy access to the Pyrenean mountain range, the Atlantic coast, the Mediterranean and Spain. Fully implanted in the local environment where it does business, the head office of Compass Immobilier is in the lively spa town of Castéra-Verduzan in the Gers, with two satellite offices in the market towns of Trie-sur-Baïse, Hautes-Pyrénées (65) and Eauze, Gers (32). Under the directorship of Victoria Maître Headdon LLB Hons, a qualified lawyer, Compass Immobilier offers tri-lingual estate agency services, specialising in bespoke property searches, tailor-made to the requirements of its clients. The successful conclusion of property transactions requires considerable local knowledge, experience and professional expertise with fully trained staff, qualities which the dynamic people of Compass Immobilier offer to every client, buyer, seller, tenant and landlord.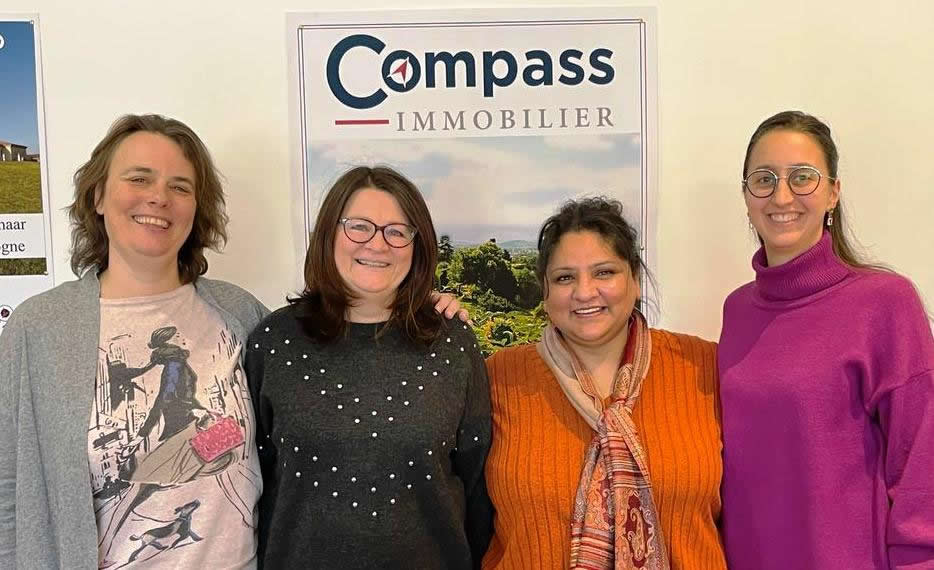 We are a team of six ladies from diverse professional backgrounds. We have all been living and working in France for some time (several decades between us!), we have families here and we are fully integrated into local life with large circles of friends and acquaintances from all sorts of places and walks of life. We all speak French and English and one of our team members is Belgian and a native Dutch speaker. One of the many things we all love most about our job is the contact with people, helping them to sell and move on with a new chapter in their lives, or finding them their dream new home. We bump into our clients in the supermarket, at local events, in all sorts of places so we try hard with a personal friendly touch to make sure that everything goes well.
Victoria Maître Headdon is the Managing Director. Philippa Headdon, Neelam Stocker, Amanda Druitt, Ghislaine Carion, Clara De Prada are commercial agents, individually registered on the special register with their own insurance and licences issued by the local chamber of commerce. We are all up-to-date with our continuing professional development requirements. Select any of our images for a bit more information about each of us individually.
Credentials and Legal Registration Details